Based on the manga of the same name by Yana Toboso, Kuroshitsuji live-action stars Mizushima Hiro who comes out of retirement to play the role of Sebastian Michaelis alongside Ayame Goriki who plays Ciel Phantomhive's descendant Earl Kiyohara Genpu (Genpō Shiori).
Since the original story takes place in London, the film justifies its Japanese cast by setting up a new backstory for its main character. Set in an unnamed Eastern nation over a century after the events of the anime, Ernest — Ciel Phantomhive's descendant and Funtom Corporation successor — moves to Japan and changes their family name to Genpō. However, his descendant (the third generation Earl) and his wife were assassinated. Since only males are allowed to take over and lead the Phantomhive family, their orphaned daughter named Shiori puts on men's clothes and signs a contract with the demon butler Sebastian Michaelis in her quest to avenge her parents' deaths.
Before the movie was released, people have been complaining about how Mizushima Hiro does not look like Sebastian Michaelis at all. I was also one of those who disapproved of Sebastian's new unkempt and unflattering hairstyle but after a while,I realized it's okay since he's one of my favorite actors and at the end of the day, his performance will matter more than his appearance.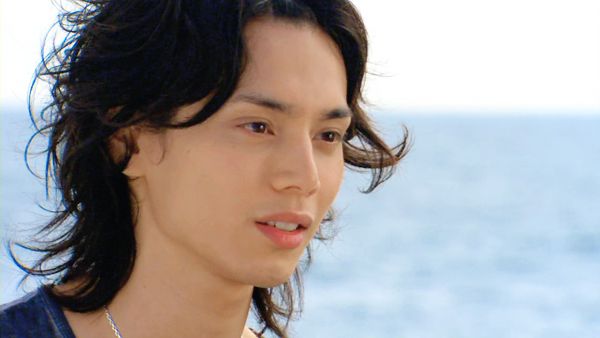 Nanba Senpai didn't have the most sophisticated hairstyle either but that didn't stop him from giving a cute and convincing portrayal of the playboy dorm leader in the 2007 gender-bender drama Hanazakari no Kimitachi e: Ikemen Paradise. Regardless of hairstyle, he'd be just fine pulling off the role of an obnoxious, good-looking demon. He's also got some butler know-hows thanks to the 2009 Best Drama Mei chan no Shitsuji. And as expected, Mizushima Hiro proved his naysayers wrong. He is simply one hell of a butler. He is, in fact, the saving grace of the movie. (I wouldn't have sat through it if weren't for him.)
For consistency purposes, Sebastian's famous line has been changed as well. Now that the movie is now set in Japan, I guess they find it unnecessary to use "Yes my Lord" although it would have been a great fanservice for the show's loyal followers and a nice reminder that Mizushima Hiro has a good command of the English language after having spent his entire elementary years in Switzerland.
Kuroshitsuji's trailer heightened viewers' expectations with its badass action scenes but sharing the same sentiment with manga and anime fans, the apparent absence of its original protagonist is disappointing. What the movie lacks the most is the adorable chemistry between the original Ciel Phantomhive and Sebastian Michaelis. Mizushima Hiro's perfect smirk and swag is not equally reciprocated by Ayame Gouriki's monotonous acting.
With the Phantomhive blood running through her veins, Shiori inevitably inherited some of Ciel's characteristics: cold, revenge-driven, tough. However, Gouriki Ayame falls short when it comes to conveying the bitterness and rage of her character. Somehow her actions end up being stiff and robotic while her facial expressions are too contrived and quite repetitive. Her confrontation with that 'cardboard cutout of a villain' turns out like a cheesy soap opera cliché due to her failure to move me to tears.
The movie also features a roster of side characters including Mizuki Yamamoto as Maid Rin, Yuka as Hanae Wakatsuki, Takura Ohno as Taaki Matsumiya, Taro Shigaki as Tanaka, Yuu Shirota as Charles Bennett Sato, Louis Kurihara as Jei, and more. Unfortunately, aside from Maid Rin's impressive action sequence, all the other supporting characters are underused.
Kuroshitsuji is a slick and stylish movie with beautiful costumes, magnificent cinematography, attractive actors, and awesome fight scenes. It had the makings of an epic film but is turned into a missed opportunity due to its uneven acting, average CG quality, generic plot, predictable twist, and slow pacing.