I don't even know how I can begin to explain the utter disappointment for this unnecessary sequel. To think I even gave it a chance. I believed that this would somehow make up for what was lacking and what was altered in the first film. It didn't.
Attack on Titan: End of the World is just as bad, or actually, even worse than the first one. Why does this even have to be a two-part film when the first few minutes of the sequel were all just a flashback of the first, apparently stalling to justify the running time. It both saddens and annoys me that the creators of the live action movie butchered the story, ruined the characters (especially Mikasa) and used the good name of Attack on Titan as cash grab. Its terrible script made Miura Haruma look like a bad actor. For those who haven't seen the anime or haven't read the manga, they might think he was overacting, not knowing that Eren Jaeger is a rage-filled character. (BTW, there are no last names for all the characters in the movie!)
As I've said before, I don't have any problems with altering the story. But if they would, then they should do it right. I wonder if the writer was on crack when they were working on the screenplay because it makes absolutely no sense. No character development, no specific goal and no comprehensive resolution. How much did they pay Hajime Isayama for him to approve this nonsense?
The sequel which was supposed to improve the first one even took away what was good in it. The only good part in the first movie was the horror of seeing Titans devour humans while they all desperately cry for help. But in the End of the World, not a single human killed a Titan. The other Titans suddenly disappeared and was replaced by a non-Bertolt and non-Reiner armored ones.  There was no "humanity fights back" at all. It was just Titan shifter VS. Titan shifter fight while humans stand back and watch.  I felt like I was watching Godzilla vs. King Kong in Titan form. And I don't like kaiju(giant monster) films!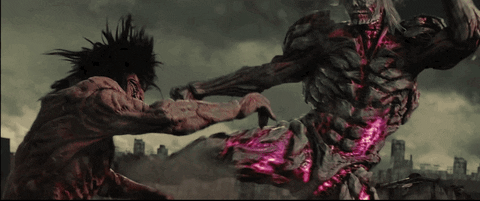 Not only did the movie introduce a bunch of new characters that I know nothing and don't care about, it also managed to make me hate the familiar ones from the original. First of all, I hated that Shikishima guy. To think they were trying to introduce him as a faux-Levi character. The nerve. And just when I thought things couldn't get any cheesier than his apple in the cave scene in the previous movie, the sequel included an extremely cringeworthy wine-drinking confrontation with Eren in an all-white room. That scene totally looks totally out of place. It's like a cheap music video forcibly inserted into a dystopian movie.
As for the others: It's like the writer simply lifted some characters from the manga: a neutered protagonist who's not worth rooting for, magnified familiar characters' distinct traits (like seriously, does Sasha have to be eating potatoes all the time?), erased important backstories and put in a lot of awkward melodramatic scenes. How could they have time for teenage drama when in the original story, the characters don't even have time to mourn for their deceased loved ones as they are in constant battle against the Titans.
The live action totally ruined my favorite character, Mikasa, (no) thanks to Kiko Mizuhara's one and a half facial expressions throughout the entire film. She was getting tossed around by Shikishima when her character is supposed to have the strength of a hundred soldiers. Hanji also turned all weird and trying hard to be a comic relief when she's in fact a badass soldier, second-in-command in the elite Survey Corps.
What's unforgivable is that the movie spoiled a major plot point from the manga. It's something that's not yet shown in the anime because Season 2 is still in the works. I have tried so hard to stop myself from finishing the manga's released chapters just so I could see it on the anime first but the film just let it all out unnecessarily and just made everything more confusing than ever. It was awful and hard to sit through. I had no choice but to read the rest of the manga so I could at least get an idea if they lifted their material from the recent chapters. They sure got the part of the tyrannical government arc, but they did so in a horrible way. That event about overthrowing the king was around chapter 60! Imagine the gap. We barely had an introduction and they just simply jumped to Chapter 60 without any clear developments.  The exposition was over-dramatically spoken instead of just being naturally played. I hate it when they literally "tell" the story instead of showing it. The musical score is like chosen by amateurs. So painful to watch, it shouldn't be in the action-adventure-horror-fantasy genre. This should be filed under the "Disaster" category.
*sigh*  I wish I had the Reiss' family's ability to erase memories. I wish this movie just never happened.