Mr. Nietzsche in the Convenience Store (Niche Sensei) is an episodic comedy series based on the manga, Niche Sensei: Konbini ni Satori Sedai no Shinjin ga Maiorita, by writer Koma Matsu and illustrator Hashimoto. Released in 2013, this manga is adapted from a collection of popular Twitter posts that chronicle the real-life experiences of convenience store workers.
The 2016 live-action follows the story of Buddhist student, Tomoharu Nii (Shotaro Mamiya), who works part-time at a convenience store. His senpai Matsukoma (Kenji Urai) trains him with the how to's. In this small establishment called 3-7, a group of oddball characters come together: the quirky Manager (Jiro Sato), lottery-obsessed Watari (Jiro), Nii's crazy stalker Kaede Shioyama (Rena Matsui), rich kid Takeshi Shibata (Ryo Matsuda), former idol group member Megumi Tatsuzaki (Rio Uchida) and late-night part-timer Kuroda (Yusuke Suga).
The show is written and directed by Yuichi Fukuda who is known for his reference-filled, anime-like, exaggerated style of comedy. His previous works include Hentai Kamen, all three seasons of the Yuusha Yoshihiko series, and Aoi Honoo. 
It's not easy to pull off Yuichi Fukuda's trademark comedy as it relies more on delivery than content. An actor should be able to give just the right amount of intensity in his performance or else, it will fail. Overacting will make the scenarios cheesy but acting half-heartedly will simply make things lame.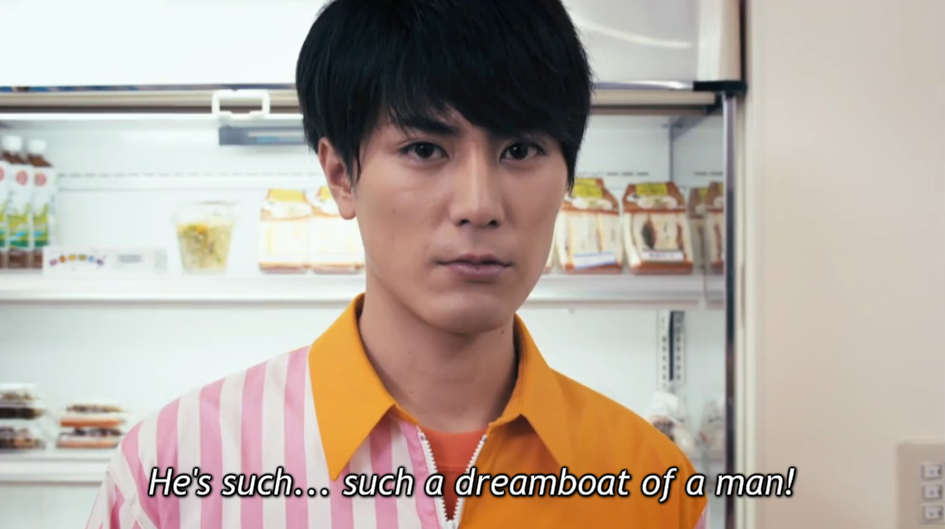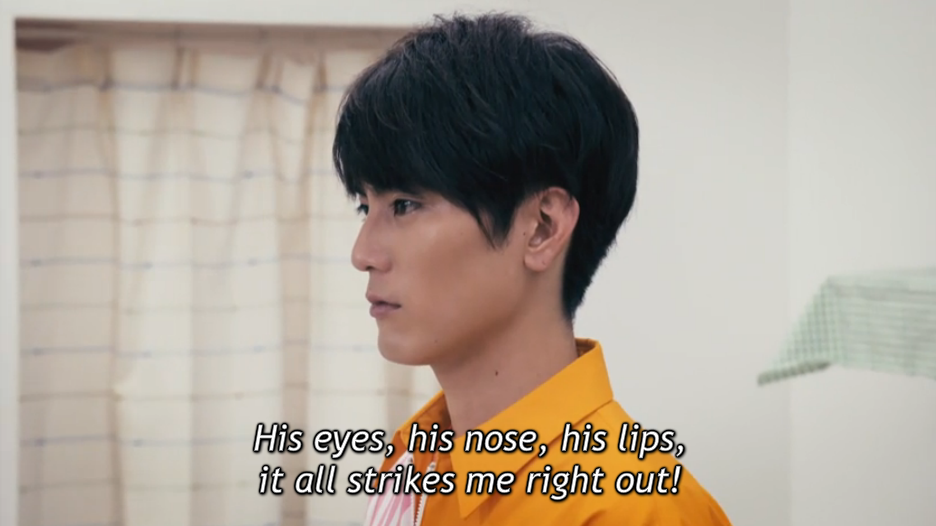 Shotaro Mamiya's handsome features and strong charisma is perfect for the stoic titular character, Nii. Nicknamed "Mr. Nietzsche", his character is like a less silly, more serious version of Takayuki Yamada in Yuusha Yoshihiko. They both come off rather strange because despite their earnestness, they have a way of speaking too straightforwardly and accomplishing things deadpan.
At first glance, deuteragonist Kenji Urai may look like someone who would easily get typecast as the nerdy and loser-type of character but he's not. Though he doesn't have that many films and dramas, he is an accomplished stage actor. He starred in well-known productions such as Sailor Moon, My Fair Lady, Flowers for Algernon, Titanic, Henry VI, and most recently, in Death Note as Yagami Light, no less. Theater actors like him who are wonted to large expressions are perfect for this kind of comedy and he proved it when he played Yano Kentaro in the 2014 retro-style, manga-inspired series Aoi Honoo. 
Jiro Sato as Tenchou (Manager) is a consistent scene stealer in Fukuda's comedies. He's one of my favorite Fukuda regulars (alongside Tsuyoshi Muro who had a cameo in one of the episodes).
The biggest challenge for the cast of Mr. Nietzsche is to keep a straight face whenever Jiro Sato delivers his lines. Shotaro Mamiya tried his best to not break character but he failed several times. He's so adorable in his attempts to suppress his laughter and the director decided not to edit out the supposedly-NG scenes which give this show an impressive sitcom-like atmosphere.
Running at around 23 minutes per episode, Mr. Nietzsche in the Convenience Store is one of the dramas that I liked so much, I finished the series in one sitting. It doesn't have any complex plot but it is full of eccentric characters and their konbini high jinks make me laugh.