When Kurosawa Kokoro's judo career come to a halt due to an injury, she finds her strength in manga. Hence, her decision to apply for a job at a manga publishing company. She possesses some sort of weird luck, she says. According to her, when she fervently prays for something, she fails; but whenever she thinks about giving up, she wins.
Such is the case when she gets hired by the mysterious president of Kotou Kan. She, then, starts to work in the editorial department of the weekly comic magazine Vibes under the supervision of deputy chief editor, Iokibe Kei, played by Odagiri Joe. How she can possibly concentrate on her job when she's with someone so kakkoii, I do not know. Kurosawa seems to really have her focus on manga and a discerning eye for artists. Coming from a martial arts background also makes it easier for her to adjust in a male-dominated office.
In this day and age when information has become readily available online and the contents of books can easily be downloaded, sometimes even for free or illegally, it is a tough job to keep the whole manga and publishing business alive. People struggle to keep up with these changes and that includes legendary mangaka, Mikurayama sensei.
His long running manga has been greatly supported by readers through the years but recently, harsh netizens post comments about the imbalance in his drawings and branded him as an Owacon- a slang which means "too old fashioned" and "completely unnecessary". For an old, kind yet talented man who's not used to reading such savage words online, these comments deeply dishearten him. It is now up to his editor, Iokibe, and newbie bear cub, Kurosawa, to find a way to make him draw again.
Kurosawa's Mikurayama encounter gave me the impression that Juhan Shuttai might be just another episodic drama where genki girl changes the people around her to achieve Juhan Shuttai. Juhan Shuttai means second printing. It is the best news for a publishing company as it means that they have released a good manga worthy of more published copies.
As the show progresses, I realize that Kurosawa isn't always exactly the reason for change in every character. Juhan Shuttai makes us see the people involved in manga publishing business in a different perspective. It connects one person to the other and proves how one's job is important to the success of each manga. Having good drawings and interesting plots are not enough. A talented mangaka needs an editor who has the same wavelength with him/her – an editor who deeply understands his/her work and is determined to send this message to the readers. Vibes' editors have different personalities but all of them are equally passionate when it comes to helping out their mangakas.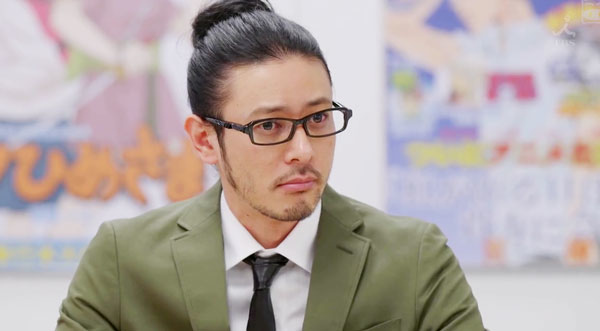 Iokibe is the most rational one. He is calm and cool and makes practical decisions regardless of his own feelings. In the end, he sometimes loses important people thinking that what he does is what's good for them.
Odagiri Joe proves that his ikemen-ness is unparalleled as he sports a man bun (with that amount of hair, more like a granny bun) and still look so freakin' handsome.
And then there's obnoxious and sharp-tongued Yasui. He's always wearing stripes. Seeing a versatile actor like Ken Yasuda play this character, I have already predicted that there is some story behind Yasui's actions. It is something that the idealistic Kurosawa couldn't understand at first but upon learning about his past and realizing the practicality, we can finally see why Yasui does what he does. If all editors will work based on pure enthusiasm and emotions, it will be difficult to rake in profits.
Manga publishing is still a business after all and the sales department plays the crucial role of bringing these books in stores. Kentaro Sakaguchi plays Koizumi Jun. He goes from one bookstore to another, just like a 'ghost', unfelt and unnoticed. Everyday he's seeking a way out of his mundane existence with a feeling that he's been assigned to a department where he doesn't belong..where he doesn't want to belong. It was only when he got partnered with Kurosawa that it became clear to him how important his job is. From his sales director, Oka, to bookstore staff, Kawa; they are all essential in pushing a manga to success.
Kentaro Sakaguchi's acting skills have improved a ton from the last time I watched him in Heroine Shikkaku and Ore Monotagari. I'm now looking forward to his first lead role in the upcoming movie, Kimi to 100 Kaime no Koi.
If Kentaro Sakaguchi is good, Nagayama Kento slays! Eita's younger brother entered halfway through the series as Haku Nakata, the struggling young mangaka with a dark past. It's quite unfortunate that in most of Kento's dramas and films, people will always connect him with his brother just like what I'm doing now. It's just hard to be an actor when your brother is Eita. But it isn't a bad thing. Sibling or not, being compared to Eita is a feat since he is one of the most effortlessly chameleon-like actor with a different kind of intensity.
Nagayama Kento may be younger and less experienced but he has the same kind of intensity that pulls you in. And in this show, he's back to looking young and cute again. I didn't really like his style in Crows Explode. His character, Nakata, was introduced at the same time as Agarie Kinu (Takatsuki Sara), a female mangaka who makes beautiful drawings but unimaginative plots. So I thought this arc will go down the Bakuman path just like  how Takagi joined forces with Mashiro to create a badass manga but the Juhan Shuttai newbies ended up in different directions as Agarie succumbed to her desire to debut by doing illustrations for other author's novels while Nakata opted to draw his manga by himself. The latter's terrible drawings continued to improve and his rough creations gave the readers something to debate about. He reminds me of Bakuman's Niizuma Eiji but with a different kind of genius, less quirks and more trauma. They both survived their lonely lives while holding onto manga and they enter a world of their own whenever they draw. Nakata, however, has more difficulty in dealing with people in real life. I love his dramatic moments with another talented but totally underrated actor, Tsuyoshi Muro, who plays Mikurayama sensei's long time assistant. And later on, Nakata's heated confrontation with Kurosawa is a big turning point and learning experience for both of their characters and proof of Kento and Kuroki's equally brilliant acting skills.
Haru Kuroki as Kurosawa Kokoro serves as the main yet supporting character. She played Toshiko, Sato Takeru's wife in last year's hit drama, Tenno no Ryoriban. Coincidentally, Sato Takeru is the star of Bakuman, the live action film about creating manga. While Bakuman tells the story in the mangakas' point of view, Juhan Shuttai doesn't solely revolve around Kurosawa. It explores the manga publishing world from mangakas to editors to salesmen and book sellers. There is an overall theme of pursuing dreams and paying forward that comes naturally inspiring and never preachy. Juhan Shuttai is a big hit thanks to Haru Kuroki's controlled overacting. This kind of performance is something that tends to get annoying and exhausting at some point but Haru Kuroki does it so well that her character becomes someone who is both earnest and endearing.
Juhan Shuttai gives an uplifting ending although I wish it were longer so we could see more of Kurosawa's story. We saw some flashbacks about her failure in the field of judo, but we didn't get to see how she was raised and how she lived her life before becoming an editor. But then I guess for the part of giving the viewers a strong source of inspiration, President Kuji's back story is more than enough.
The show does not have any stereotypical villains, no forced drama, romance or corporate politics. It simply depicts normal people in a life filled with ups-and-downs as they do their jobs the best way they know how. This kind of slice of life story always makes me happy to watch Jdoramas whenever I want to take a break from Kdrama fluff.