Guardians of the Galaxy Vol. 2, Logan, Thor: Ragnarok, Spider-Man: Homecoming, Justice League, Wonder Woman, Power Rangers and more. It seems that we will see a lot of superhero blockbusters, both sequels and reboots, from Hollywood this year. Producers also boast the acquisition of rights to several well-known Japanese source materials. These include: Ghost In the Shell, starring 2016's Forbes Top-Grossing Actor, Scarlett Johansson, Netflix's adaptation of the supernatural manga, Death Note, and still in Lionsgate's pre-production is the long-running manga Naruto.
Meanwhile, Japan refuses to be outshined and has prepared a plethora of homegrown live-action movies for this year. Since it's 2017, it's only apt that I make a list of 17 films. They are arranged according to their release date in Japan.
1. Saki
Release date: 3 February 2017
Director: Yûichi Onuma
Cast: Minami Hamabe, Nana Asakawa, Aika Hirota
Saki Miyanaga (Minami Hamabe) grew up playing mahjong with parents who get upset whenever she wins or loses. For this reason, she learns to keep her score at zero, which is actually more difficult than winning. Then, an old friend convinces her to play at their school's mahjong club. From then on, the girl who used to hate mahjong learns to love the game. She officially joins the mahjong team to enter her prefecture's high school tournament with the goal of reaching the national high school competition.
2. One Week Friends
Release date: 18 February 2017
Director: Shôsuke Murakami
Cast: Haruna Kawaguchi, Kento Yamazaki, Seika Furuhata
The story revolves around Yuki Hayase (Yamazaki Kento), who becomes friends with his lonely classmate Kaori Fujimiya (Haruna Kawaguchi). He then discovers that the reason for her social isolation is the fact that she loses all memory of her friends every Monday. In spite of this, Yuki still continues to approach her and befriend her every week.
3. Closest Love To Heaven
Release date: 25 February 2017
Director: Taisuke Kawamura
Cast: Taishi Nakagawa, Marie Iitoyo, Shôno Hayama
Adapted from the shoujo manga Kyo no Kira kun, Marie IItoyo plays Ninon Okamura, an introverted girl whose only friend is a pet parrot. She lives next door to a popular boy, Yuuji Kira (Taishi Nakagawa), but they have never spoken to each other. Her life changes when her mother asks her to befriend him. Eventually, she learns about his secret: Kira is terminally ill and only has a year left to live.
4. March Comes In Like A Lion
Release date: 18 March 2017
Director: Keishi Ohtomo
Cast: Ryûnosuke Kamiki, Kasumi Arimura, Shota Sometani
The actor who played Sojiro Seta reunites with his Rurouni Kenshin director, Keiishi Otomo for this two-part adaptation. Kamiki Ryunosuke is Kirayama Rei, a 17-year-old shogi genius. This slice-of-life movie shows Rei's growth, as well as his relationship with the Kawamoto sisters and his prominent rivals in shogi.
Kamiki will also face his Bakuman rival, Shota Sometani, once again as the latter makes an almost unrecognizable transformation to play Harunobu Nikaido, Rei's friend and shogi rival. The release of the first part of the film is on March 18, 2017 and the second part is on April 22, 2017.
5. Daytime Shooting Star
Release date: 24 March 2017
Director: Takehiko Shinjo;
Cast: Mei Nagano, Shohei Miura, Aran Shirahama, Maika Yamamoto
Daytime Shooting Star is based on the manga, Hirunaka no Ryuusei, by Mika Yamamori. Suzume Yosano transfers from the countryside to Tokyo. She runs into a good-looking man and falls in love with him. The man happens to be her homeroom teacher, Satsuki Shishio (Shohei Miura). Meanwhile, Suzume become friends with shy classmate, Daiki Mamura (Alan Shirahama), who soon develops romantic feelings for her.
6. Sagrada Reset (Part 1)
Release date: 25 March 2017
Director: Yoshihiro Fukagawa
Cast: Shûhei Nomura, Yuina Kuroshima, Yûna Taira
Based on the light novel series, Sakurada Risetto (written by Yutaka Kōno and illustrated by You Shiina), and adapted into a manga by Monthly Shonen Ace magazine, the two-part adaptation is set in Sakurada, where most residents hold various superpowers. Among them are two high school students: Kei Asai (Nomura Shuhei), who has the ability to perfectly remember everything he sees and hears, and Misora Haruki (Yuina Kuroshima), who can turn back time or reset for a maximum of three days. They are members of the Service Club, the administration bureau that monitors people's powers to maintain the peace in town.
Under the English title, Sagrada Reset, Part 1 will be released on March 25, 2017 while Part 2 will be on May 13, 2017.
7. Policeman And Me
Release date: 25 March 2017
Director: Ryuichi Hiroki
Cast: Kazuya Kamenashi, Tao Tsuchiya, Mahiro Takasugi
The shoujo manga, P to KJ (by Maki Miyoshi) centers on Kako Motoya (Tsuchiya Tao), who pretends to be a university student and attends a group date where she meets policeman Kota Sagano (Kamenashi Kazuya). They become attracted to each other, but things change when Kota learns that Kako is still in high school. Despite their age gap, they decide to get married in secret, keeping it under wraps until Kako graduates.
8. ReLIFE
Release date: 15 April 2017
Director: Takeshi Furusawa
Cast: Taishi Nakagawa, Yûna Taira, Mahiro Takasugi
Taishi Nakagawa leads another live-action film. This time, he plays a 27-year-old unemployed man who agrees to be a part of a scientific experiment that makes him 10 years younger. The ReLIFE project sends him back to high school where he meets and falls in love with his classmate, Chizuru Hishiro (Yuna Taira).
9. Teiichi: Battle Of Supreme High
Release date: 29 April 2017
Director: Akira Nagai
Cast: Masaki Suda, Yûdai Chiba, Shôtarô Mamiya
There is no stopping the skyrocketing career of Masaki Suda, who had nine films last year and is also playing a major supporting character in Gintama live-action this year. As Teichii Akaba, he dreams to become a prime minister in the future. For now, he must do everything in his power to win their prestigious school's Student Council presidential election, including sucking up to his senpai (thus, the shoe licking in the movie poster).
Teiichi: Battle of Supreme High is directed by If Cats Disappear from The World director, Akira Nagai.
10. Blade Of The Immortal
Release date: 29 April 2017
Director: Takashi Miike
Cast: Takuya Kimura, Hana Sugisaki, Sôta Fukushi
Japanese icon Kimura Takuya and prolific auteur Takashi Miike work together for the first time on this film. Kimura Takuya plays Manji, a samurai who is cursed with sacred bloodworms. To regain his mortality, he vows to kill 1,000 evil men. He then meets Rin Asano, a massacre survivor who hires him as a bodyguard on her quest for revenge on the group of swordsmen called Itto Ryu led by Kagehisa Anotsu. This is Sota Fukushi's first villain role.
11. Peach Girl
Release date: 2 May 2017
Director: Kôji Shintoku
Cast: Mizuki Yamamoto, Kei Inoo, Mackenyu
Mizuki Yamamoto is Momo Adachi, a member of the high school swimming team. She is often stereotyped as promiscuous due to her ganguro look: tanned skin and bleached hair. In reality, she is actually shy, insecure and conflicted with her feelings over Toji (Mackenyu) and Kairi (Kei Inoo).
12. Gintama
Release date: 14 July 2017
Director: Yûichi Fukuda
Cast: Shun Oguri, Masaki Suda, Kanna Hashimoto
One of Japan's favorite leading men, Oguri Shun plays eccentric, laid-back, and Weekly Shōnen Jump-obssessed, samurai Gintoki Sakata. The story is set in an alternate world of the late-Edo period where humans are ruled by aliens after a shogun's betrayal made the government powerless. The reference-filled comedy features Gintoki's adventures and alien encounters as he does various freelance odd jobs together with his friends Shinpachi Shimura (Masaki Suda) and Kagura (Kanna Hashimoto).
Gintama is an episodic series, but it seems that the live-action will focus on one of its majors arcs — the Benizakura Arc. The film is directed by Yuichi Fukuda, who has collaborated with Oguri Shun in the drama Tokyo Dogs and the movie adaptation of Hentai Kamen.
13. Tokyo Ghoul
Release date: 29 July 2017
Director: Kentarô Hagiwara
Cast: Masataka Kubota, Fumika Shimizu, Yu Aoi
After successfully bringing Yagami Light to life in the 2015 Death Note series, Masataka Kubota plays another psychologically unstable character. Kaneki Ken is just an ordinary student who transforms into a half-ghoul after undergoing a surgery that transplanted ghoul organs into his body. He stays at a cafe called Anteiku with ghouls who help him adjust to his new life while he tries to suppress his ghoulish tendencies and cling to his human side.
14. JoJo's Bizarre Adventure: Diamond Is Unbreakable
Release date: 4 August 2017
Director: Takashi Miike
Cast: Yamazaki Kento, Ryûnosuke Kamiki, Nana Komatsu
Diamond is Unbreakable is the fourth arc of the epic saga that is Jojo's Bizarre Adventure. The story is set in the fictional world of Morioh. Yamazaki Kento plays Higashikata Josuke, the illegitimate son of Joseph Joestar. He uses a Crazy Diamond Stand that has the power to restore objects to their original form. He has an amiable personality but prepare to get hurt if you insult his well-maintained pompadour. His friend, Hirose Koichi, gains a sound effect Stand called Echoes. Together with Josuke's older nephew, Jotaro Kujo, who is in search of a powerful bow and arrow, they protect Morioh from some crazy and evil Stand users.
Takashi Miike and popular actors Yamazaki Kento, Kamiki Ryunosuke, Yusuke Iseya, Komatsu Nana, Takayuki Yamada, Masaki Okada, and Mackenyu are all involved in this film. However, even with a famous director and a talented cast, adapting one of the best selling manga series in history is such an ambitious move.
15. Ajin
Release date: 30 September 2017
Director: Katsuyuki Motohiro
Cast: Sato Takeru, Gô Ayano, Tetsuji Tamayama
Sato Takeru leads another highly anticipated action-packed film, but unlike Rurouni Kenshin and Bakuman, Ajin:Demi Human is an underrated manga. He plays Nagai Kei, a medical intern who discovers that he is an ajin after surviving unscathed a traffic accident that would have killed an ordinary human. The immortal ajins are being captured and locked up in a research facility as subjects for painful experiments. With a price on his head, Kei has no choice but to make a run for it. He does, however, feel the need to return and help humans stop a vicious ajin named Sato from executing acts of terrorism in a plot to take over the country.
16. The Disastrous Life Of Saiki K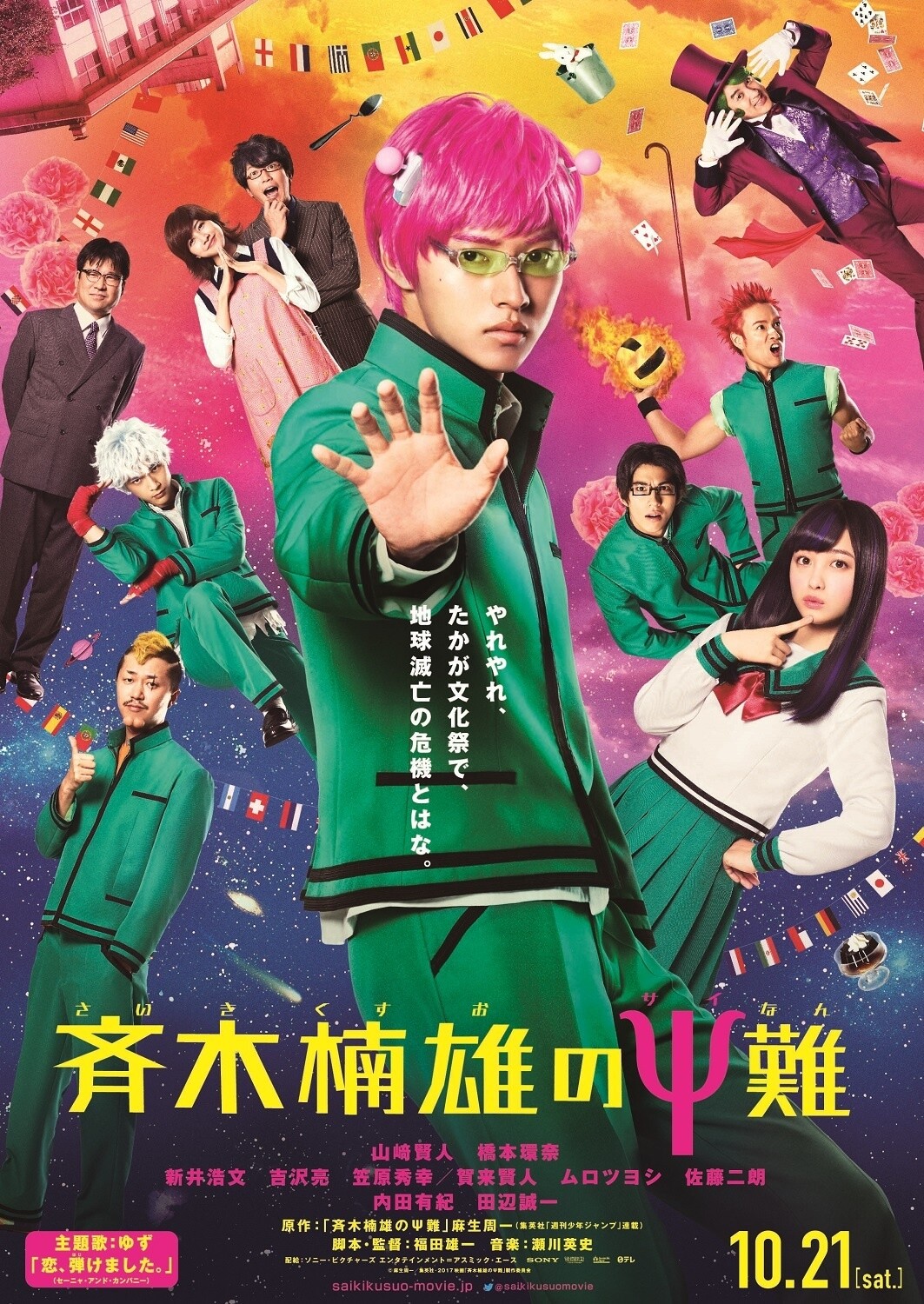 Release date: 21 October 2017
Director: Yuichi Fukuda
Cast: Yamazaki Kento, Hirofumi Arai, Yoshizawa Ryo
Regarded as the prince of live-action, Yamazaki Kento stars in this movie based on a gag manga as the pink-haired, expressionless student Saiki Kusuo, who can literally control the world if he wants to. The title, Saiki K, is a play on "psychic." He doesn't speak using his voice. Instead, he projects his words via telepathy into the mind of the other person. Thanks to his antenna-like limiters, he can keep all his ESP-related superpowers in check. This guy who's addicted to coffee jelly and TV drama tries to live a normal life but in spite of his attempts to keep his abilities a secret, his eccentric classmates and their hilarious school hijinks won't allow him to do so.
The film is directed by Gintama director Yuichi Fukuda, who is known for his fourth wall-breaking comedies. The Disastrous Life of Saiki K released a teaser featuring Yamazaki Kento as he speaks to the audience and pokes fun at himself to demonstrate his ability to read people's minds.
17. Fullmetal Alchemist
Release date: 1 December 2017
Director: Fumihiko Sori
Cast: Ryôsuke Yamada, Tsubasa Honda, Dean Fujioka
Hey! Say! JUMP's Ryosuke Yamada dons long, blond, braided hair to play Edward Elric. Set in the fictional country of Amestris, Edward and his brother Alphonse performs alchemy to revive their dead mother. After attempting this taboo practice, Edward loses a limb and Alphonse loses his whole body. The story follows the brothers' adventures as they set out on a journey to find the Philosopher's Stone, which is believed to have the power to bring back what they have lost.
2016 was a mediocre year for Japanese live-action films. There was box-office success for Oguri Shun's Nobunaga Concertoand Ryosuke Yamada's Assassination Classroom: Graduation. The films Wolf Girl and Black Prince and Drowning Lovegarnered the support of shoujo fans. On the other hand, we also witnessed the travesty that is Terra Formars, the underwhelming Death Note: Light up the NEW World, and the flop remake of MARS.
2017 has a stronger lineup and reliable lead actors. With action-adventure, comedy, historical, romcoms, sports, and supernatural, this year's selection offers a variety of genre that caters to a wide range of audience.
Regardless of the outcome, I am totally hyped about Tokyo Ghoul and Ajin, featuring two of my favorite live-action heroes — Masataka Kubota and Sato Takeru — both playing physically strong but mentally scarred characters.
How about you: Which live-action movie are you most excited to see?