Fervent manga fans are not so thrilled about the Hollywood remake of Ghost in the Shell. More worries ensue as Netflix releases the trailers for its adaptation of the psychological thriller, Death Note. In contrast to the cynical reactions towards Hollywood remakes or reboots, Asian adaptations receive more favorable responses. Such was the case when the producer of Meteor Garden announced the upcoming reboot of the popular Taiwanese television series based on the well-loved shoujo manga, Hana Yori Dango.
Hana Yori Dango revolves around Tsukushi Makino, a determined young woman who manages to enter the elite Eitoku Academy, an exclusive school for the wealthy. She tries her best to not stand out and just finish her studies peacefully. This all changes when her best friend Endo Makiko accidentally offends Tsukasa Domyouji, the feared leader of the F4. F4 members belong to the richest and most powerful families in Japan and that gives them the privilege to have a free reign over the entire school. This incident leads to Makino becoming the target of all their assaults. She is also ostracized by everyone except Rui Hanazawa, the introverted F4 member who, at times, even steps in to save her. Tsukushi falls for the quiet violinist Rui, while she wages war against the almighty Domyouji. Domyouji finds her plucky attitude both amusing and attractive and as a result, Makino finds herself in the middle of a romantic triangle between these influential heirs. The other two members of the F4 are Akira Mimasaka, the cool peacemaker who prefers to date mature women, and Sojiro Nishikado, the charming and relentless playboy.
Hana Yori Dango is written and illustrated by Yoko Kamio. The manga's original run started in October 1992 until September 2003. It was followed by a 51-episode anime adaptation in 1996. It then became one of the most popular mangas to have been adapted so many times in different countries.
Let's take a trip down memory lane and look back at some of Hana Yori Dango's main live-action adaptations.
Hana Yori Dango (1995)
The first live-action adaptation of the manga is a Japanese feature-length film of the same title. Released in the year before the anime came out, the movie stars Yuki Uchida as Tsukushi Makino, Shosuke Tanihara as Tsukasa Domyoji, Naohito Fujiki as Rui Hanazawa, Koichi Hashizume as Akira Mimasaka, and Kensaku Saeki as Sojiro Nishikado.
Yuki Uchida as Tsukushi Makino dons a Single White Female-like hairstyle and unlike the other fawning female students, she confidently walks past the F4 without giving them much attention. Instead of having a friend involved, it's her direct confrontation with Domyouji that earns her the dreaded Red Card. This super spunky version of Tsukushi is the one who started the whole mess when she slapped Domyouji for no reason so it's hard to sympathize with her. The movie is fast-paced, overacted, and the F4 members sadly lack charisma.
Meteor Garden (2001)

Taiwan's Meteor Garden starring Barbie Xu, Jerry Yan, Vic Zhou, Vanness Wu and Ken Zhu, is Hana Yori Dango's first live-action television series. This version alters the main characters' names into Shan Cai, Dao Ming Si, Hua Ze Lei, Xi Men, and Mei Zuo. A few more minor changes include making Shan Cai into an only child, moving from high school to university, and giving more screen time to Xi Men and Mei Zuo.
Compared to the first Japanese movie, the characters in this version have more distinct traits that enable the viewers to easily tell the F4 members apart. It also gives us a strong and principled female lead worth rooting for. Despite the obvious low-budget and the awkward acting from then-newcomers (like model Jerry Yan who began his acting career that year), Meteor Garden became a runaway success and started the Asian drama phenomenon in several Southeast Asian countries. The series' theme songs also became a nationwide earworm. In 2003, F4 even held a live concert in the Philippines. A few years later, the launch of the drama reruns still generated a lot of buzz all over social media particularly on Twitter and Facebook.
Meteor Garden was followed by a supplementary mini-series entitled Meteor Rain, which featured three stand alone episodes focusing on each F4 member except Hua Ze Lei.
Meteor Garden II (2002)
In the following year, the main cast reprised their role for the sequel, Meteor Garden II, which tackles the events that happened after their graduation from Ying De University. The setting is moved to Barcelona, Spain where Dao Ming Si attempts to propose but a car accident changes his supposed happy-ever-after with Shan Cai. As a result, Dao Ming Si suffers from memory loss and ends up in the care of the other accident victim named Ye Sha. Shan Cai asks the other F4 members to help her find her missing lover. However, when Dao Ming Si learns about his past self, it makes him wish to continue forgetting about everything and just live peacefully as a new person with Ye Sha. Will Shan Cai's love be strong enough to bring him back?
The sequel uses the amnesia trope but the strong bonds of friendship and the likability of the characters totally make up for the hackneyed plot.
Hana Yori Dango (2005)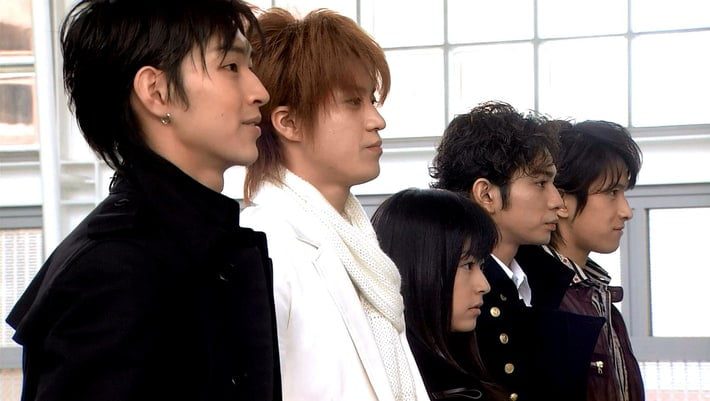 Following the success of its Taiwanese counterpart, Japan finally launched its own Hana Yori Dango series starring Mao Inoue, Jun Matsumoto, Shun Oguri, Shota Matsuda, and Tsuyoshi Abe.
Mao Inoue and Jun Matsumoto both debuted as idols: Mao as a member of U-15 (junior idols) in 1999 and Matsumoto as a member of Arashi, one of the best-selling boybands in Asia. Out of all the Hana Yori Dango versions, they are the only lead stars who are romantically paired in real life. After a number of paparazzi photo leaks and denials, the two finally revealed that they have been in a long-term relationship. Mao Inoue and Jun Matsumoto's genuine and unparalleled chemistry totally captured the essence of the manga.
Oguri Shun, who plays Rui Hanazawa, is a scene stealer, too. He exudes mysterious, swoon-worthy and a bit of devious vibes that make him the perfect personification of Rui. This role established Shun as one of Japan's most versatile actors and favorite leading men.
Hana Yori Dango was followed by its sequel, Hana Yori Dango Returns. Just like Meteor Garden, the setting takes place overseas, this time in New York, with a storyline that includes revenge and amnesia.
Hana Yori Dango Final (2008)
This film is the last installment of the Hana Yori Dango Japanese live-action trilogy. Domyouji announces his marriage plans to the public and shows everyone a picture of Makino stuffing her face with ramen as a way to introduce her as an unconventional and memorable fiancée.
Makino receives an expensive present from Domyouji's mom. The Smile of Venus is filled with precious stones that represent eternal love but it gets taken away by a masked thief. So the couple sets off on a trip to Las Vegas and Hong Kong to find the culprit. The three F4 members follow and help them in their mission to retrieve the missing tiara. The former Rui Hanazawa actor, Naohito Fujiki, makes an appearance as hotel businessman Kazu Kaburagi.
Boys Over Flowers (2009)
The main cast of Boys Over Flowers (Kkotboda Namja) is comprised of Lee Min-ho as Gu Jun Pyo, Ku Hye-sun as Geum Jan Di, SS501's leader Kim Hyun-joong as Yoon Ji Hoo, Kim Bum as So Yi Jung, Kim Joon as Song Woo Bin, and Kim So-eun as Chu Ga Eul.
The Korean storyline has major differences from its original source. Geum Jan Di witnesses a suicide attempt that takes place in the prestigious school. She enters the school after Shinhwa Group offers her a scholarship in exchange for covering up any negative scandals following the incident. The characters start in high school but the F4 members move on to Shinhwa University in the latter half of the show. So Yi Jung and Chu Ga Eul's arc gets more screen time and becomes the secondary romantic plot.
From fashion to fancy cars, the South Korean series is the most flamboyant adaptation but exuberance and eye candy can only do so much. It cannot compensate for some of it's actors' lack of acting skills. Fortunately, the Hana Yori Dango magic works on its male lead as the series propelled Lee Min-ho's career to superstar level.
Meteor Shower (2010)
The Chinese version that aired on Hunan TV is an unofficial adaptation unauthorized by Hana Yori Dango's publication, Shueisha. It stars Zheng Shuang as Chu Yuxun, Hans Zhang as Murong Yunhai, Yu Haoming as Duanmu Lei, Vision Wei as Ye Shuo and Zhu Zixiao as Shangguan Ruiqian. The first season follows Chu Yuxun's entrance to the prestigious Aliston College and her encounters with the four richest students who lord over the school. Some parts of the second season take place in Singapore when Murong Yunhai loses his memory of Chu Yuxun.
The producer claims that this series is simply inspired by the manga. Even though this is an unlicensed adaptation, Meteor Shower still became one of the most influential shows in China bagging several Most Popular Awards at that time.
Boys Before Friends (2014)
The worst adaptation is the American series Boys Before Friends. It has unpopular actors and is filled with behind-the-scene controversies. The female lead character, Zoey, is a dancer who gets accepted in the Grad School for the rich and powerful. The funniest episode is when she gets a makeover and literally comes out as a different person. Then, news about the lead actor getting fired surfaced all over Twitter. The show changes both leads while the drama is ongoing. As more cast members leave, the producers announce that they have filed a lawsuit against their own actors. After six episodes, Boys Before Friends went into hiatus. With low budget, bad camera angles, cringe-worthy acting, and a whole lot of off-screen drama, I wonder why they even bothered to release this disastrous series.
Hana Yori Dango has also been adapted exclusively in countries like Indonesia as Siapa Takut Jatuh Cinta, in Turkey as Güneşi beklerken, and in India as Kaisi Yeh Yaariyan.
Have you seen these live-action adaptations? Which version is your favorite?
In spite of the highs and lows experienced by these Hana Yori Dango live-action films and dramas, fans can't get enough of the age-old love story and still get all hyped and nostalgic with the announcement of a 2018 Meteor Garden reboot. It's been exactly 16 years since the Taiwanese series aired and its creator, Angie Chai, reveals that the upcoming 48-episode series will be fuller and flashier with a budget that's 30 times bigger than the 2001 drama. The actors have not been officially decided yet so there are many speculations and suggestions as to who should play the famous female lead and the legendary F4. The project is still at the screenwriting stage but it will be amazing if it includes a cameo from its original stars.
How do you feel about this reboot? Who do you think should play this generation's Tsukushi Makino and F4?