Director Yuichi Fukuda's Gintama broke box office records and became the biggest live-action film for 2017 but his follow up comedy flick failed to repeat the success. Despite claiming the second spot at the box office on its release, Psychic Kusuo earned only 35% of Gintama's debut weekend.
Saiki Kusuo no Psi-nan (read as Saiki Kusuo no Sainan and literally translated as The Disastrous Life of Saiki K) is a gag manga by Shuichi Asou which started its run in 2012 and officially ended in February 2018. The anime adaptation is currently airing its second season.
The story focuses on a high school boy who was born with every psychic ability imaginable. He's so strong, he has to put on a pair of antenna-like limiters to avoid disasters like destroying the entire school building with a kabedon or making world satellite signals go haywire.
The live-action film under the English title Psychic Kusuo follows Saiki's attempts to live as an ordinary student but things get complicated when he's surrounded by eccentric classmates: Hashimoto Kanna as the angelic beauty Teruhashi Kokomi, Kasahara Hideyuki as passionate sportsman Kineshi Hairo, Hirofumi Arai as idiotic Nendo Riki, Yoshizawa Ryo as the chuunibyou Shun Kaido, and Kaku Kento as former delinquent Kuboyasu Aren.
From Saiki's pink hair to Nendo's butt chin, the characters' costume designs are all on point. Despite having a powerful ESP-er as protagonist, the story isn't set in a fantasy world like an alien-infested sci-fi version of Edo. It takes place in an ordinary high school (PK Academy) so it's a bit painful to watch since the slice of life atmosphere doesn't match the low quality special effects.
This movie also has the same comedic elements as Gintama (fourth wall breaking, pop culture references, and even poop jokes) but the big difference lies in the actors' execution and delivery.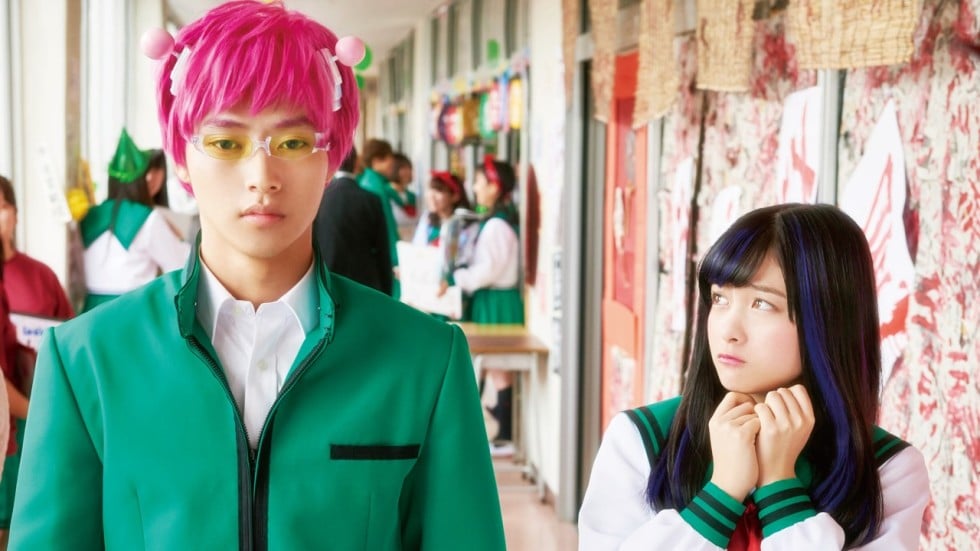 Deadpan snarker Saiki Kusuo is a difficult role to portray and Yamazaki Kento has to keep a straight face the entire time. However, acting with inner monologue doesn't seem like his strong suit. His eyes aren't as expressive as Kamiki Ryunosuke or Masataka Kubota's so without the voice over, it's hard to know what he's feeling. Moreover, the movie dismissed a notable trait of the original character: Saiki isn't supposed to speak using his mouth.
Meanwhile, the supporting cast shows some apparent uneven acting. The script requires them to overact but while some are really good at it (like Yoshizawa Ryo), the others are just cringeworthy (like Hashimoto Kanna). Chameleon-like actor Hirofumi Arai transforms into a different person once again as he plays the role of Nendo. On the other hand, Kaku Kento's exaggerated facial expressions made the supposedly badass yankii Kuboyasu look really weird. Kaidou's admirer Yumehara Chiyo and pervy spirit medium Toritsuka Reita are MIA but green-haired magician Chono is present in the live-action because someone's gotta say "Illusion!" every time nonsensical things happen. Tsuyoshi Muro did a great job but the other Fukuda regular, Sato Jiro, is sadly underused.
The film follows the usual 3 Act Structure but it feels like a very long exposition due to the continuous introduction of characters who are mostly unrelatable and unlikeable for the uninitiated. Saiki is avoidant, Teruhashi is petty and manipulative, Nendo is stupid, Shun is childish, Hairo is too intense, and Aren is strange. Shun Kaidou is the only likeable one but that's just because I've always liked this character and I love Yoshizawa Ryo. His chuunibyou behavior and his face-off against the Dark Reunion will surely baffle the audience who aren't familiar with the source material.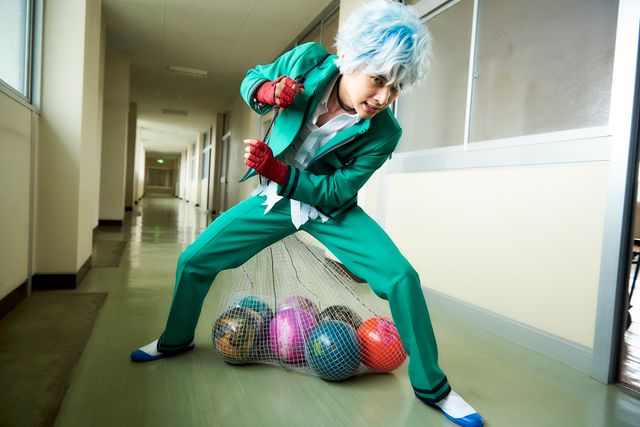 Psychic Kusuo reminds me of the Daily Lives of High School Boys movie that was released in 2013. They're both comedy gems but stories like these that show trivial experiences of high school students aren't meant for live-action since it's hard to build the climax and the short running time isn't enough to make the audience care about the quirky characters. Unlike how Gintama live-action managed to please the fans, followers of Saiki Kusuo no Psi-nan will probably feel disappointed since the trailer and the behind-the-scene NG clips are funnier than the actual film.